Welcome... Fall 2022 Season

Teams | Standings | Schedules | Gamescores | Players Looking for a Team? | Coach Admin
League FAQ
By admin
Jun 14, 2022
News
Online Applications [Fall ball]
If you're interested for 2022, Look under the League Tab OR:

By admin
Feb 17, 2018
News
League FAQ
Are you looking for information about our league ? Do you want to play on a team or enter a team ?
By admin
Jan 8, 2012
News
For faster updates we will be posting on Telegram, Twitter under Langley Slo Pitch
By admin
Jul 12, 2021
News
Gates
The ToL policy is to LOCK the gates 20 minutes after Dusk or 20 minutes after any scheduled event is over.
Your car will be locked in after this time and in July / August you would be towed.
Issue will be split games, so if you park off 216 for the 6:30 game and leave it there for the 9:10 game you will be locked in.
Please forward to your players.
By admin
Apr 29, 2022
News
Rain Outs
BY DEFAULT All Games are a GO unless told otherwise.
Rain outs will be called by 5:00pm GAME day. The weather patterns change so we don't want to call too early, unless we see an Ark filled with animals floating by.
After 5:00pm the call will be MADE at the park, unless the weather gets so bad the 7:50 / 9:10 can not be played, then we will call.
When games are called, it will be posted on our Home page, a notice emailed to Coaches & Players [after rosters are imported from SPN] and sent out on Twitter and Telegram. There is NO number to call.
By admin
Mar 26, 2018
News
Artificial Turf Diamond
RE: Lights out @ Home Plate. From the ToL
Musco has been contacted and a warranty lamp replacement is getting under way. Musco is securing a contractor and we have placed and order for the new lamps. Unfortunately we don't have a timeline at this moment, We can update you when our purchase order goes through on the lamps and we have a delivery date/ install date setup with the contractor.
By admin
Apr 9, 2022
News
Artificial GRASS Diamond @ Willoughby
Just to be clear... when we book the corner diamond, we have access to the COMPLETE fenced area, so NO soccer players etc practicing in any of the corners.
All soccer nets should be moved to the edges, if they are not, you should move them.
And of course, be polite, but firm, if someone tries to say otherwise.
By admin
Apr 4, 2022
News
Team Name
If you are wishing to change your Team name please email PREZ
As we import the SPN roster into our site, the names on the SPN and League site must match EXACTLY. This also means capitalization.
By admin
Mar 7, 2022
News
Players LOOKING for a team ?
Add your info >>> HERE ! <<<
Coaches can access via Coach Admin, sign in then look for this :
All information is automatically deleted after the Season is done, ie After Spring all Spring ball player info is deleted, same after Fall ball
By admin
Feb 18, 2022
News
2022 @ Langley : COED
September 16-18
By admin
Feb 21, 2022
News
YET RESULTS
By admin
Sep 2, 2021
News
Tournaments @ MAP Page
Can Be found >> HERE <<
Spring 2022 Weekends are POSTED
By admin
Aug 9, 2021
News
MAP Parking lot
Parking lot gates lock 15 minutes after lights out...
So no hanging around
Thx
By admin
Aug 4, 2021
News
for iPhones / iOS
Convert the .csv schedule to .ics here:
https://manas.tungare.name/software/csv-to-ical/
By admin
Jul 25, 2021
News
SPN Roster
EVERYONE. Please build your Roster on the SPN site
We'll IMPORT, ONCE ! Sunday August 8
SAVE yourself the grief of having to do it manually on our site.
By admin
Jul 22, 2021
News
Players
Do NOT add players to your team on this site. We IMPORT your SPN roster ONCE so please ensure your team is completed.
Coaches can NOT add players, they must register so you can add to your team.
https://slo-pitch.com/login
ALSO you can find players after you log into Coach Admin.
You will find a listing under " PLAYER PICK UPS"
By admin
Jul 21, 2021
News
Fall Ball Contact Info
PLEASE UPDATE your Contact Info
http://fall.langleyslopitch.ca/coaches/index
The login password has been changed.
It is now. >>> fall2021.
Also the spelling of your TEAM name MUST match what you have with SPN.
By admin
Jun 7, 2021
News
SMS ALERTS
NEW FEATURE Sign up to our SMS Alerts. The will allow the League to text you Rain outs, Admin announcements. You can unsubscribe at any time. League can isolate texts to Teams, Divisions. Link can be found on the Home Page, below the myTeam Login.
http://fall.langleyslopitch.ca/smsusers/new
By admin
Jan 16, 2019
News
Bats
ALL Bats this year must have the USSSA Thumb print. As attached. Any banned bats can be found on the SPN site.
FROM SPN 2019 Rule Book :
NOTE: All legal bats used in Slo-Pitch National will have the USSSA compliance mark located on the bat.
NON-APPROVED BATS: The batter is out and ejected from the game if he enters the batter's area with an illegal bat. In addition, the coach/manager is ejected as well.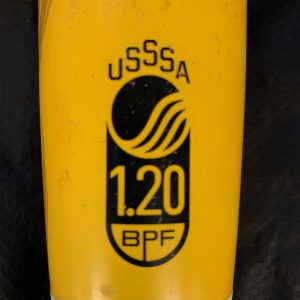 By admin
Jan 13, 2019
News
Portable Music Players
We may as well address this now. DO NOT have the music turned up so as to cause complaints from players / spectators / Township staff. We understand it's nice to have music in the back ground but having it set at "Club / Rave" levels is not fair or right. If this contuiues as an issue we will BAN portable music players and impose fines for anyone who brings one to the park. Your taste in music should STAY in YOUR dug out, Please adjust the volume accordingly.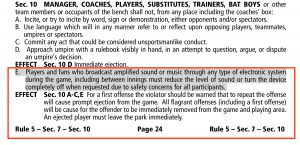 By admin
Apr 3, 2018
News
Brown Road
FROM "Terms of Understanding":
At Brown Road, when the last game is finished you are to leave the park, parking lot and street. NO staying late. After three warnings your team is kicked out of our league, This is your FIRST warning !
By admin
Jun 28, 2016
News
All Painted Fair/Foul Lines are
272' long. EACH and everyone.
MAP, BRN, DR, NB, MJS & RR. So a fenced field and NON-fenced field are the same.
By admin
May 30, 2017
News
SPN Forms
For Insurance, Injury/ Incident and Parental Consent forms . Click HERE
By admin
Mar 20, 2015
News
Recent GameScores
| | | | | | | |
| --- | --- | --- | --- | --- | --- | --- |
| Field | Diamond | Date | Time | Visitor | Home | Status |